Why Carnavale Resources (ASX:CAV) shares are trading 31% higher on ASX today?
ASX-listed nickel and gold exploring giant Carnavale Resources Limited (ASX:CAV) shared on 18 January 2022 that it has received partial results from the initial RC drilling program at the McTavish East prospect at the Kookynie Gold project. The project lies 160km north of Kalgoorlie in the West Australian Goldfields. 
According to the Company, the initial RC drilling program comprised 21 holes for 2,987m. Partial results have been received for ten holes, with results from the remaining assays expected to be received before January end of 2022.
Other highlights of the results include:
New shallow high-grade gold lode discovered at Kookynie McTavish East prospect.
Significant new RC drilling results include:

16m @ 20.92g/t from 161m (inc.10m @ 31.88g/t) in MERC005
4m @ 17.82g/t from 78m (inc.2m @ 33.55g/t) in MERC001
[email protected] 3.27g/t from 109m in MERC003

Wide high-grade gold mineralisation intersected in fresh bedrock associated with strong quartz-veining with the internal zone of 10m assaying over 1.0 oz/t.
Mineralisation correlates well with the previously reported shallow oxide high-grade aircore drilling results (4m @ 31.1g/t and 2m @ 16.25g/t).
Management Commentary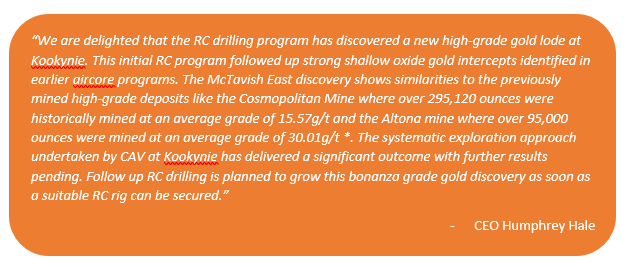 Source: ASX announcement 18 January 2022
Stock Performance
The stock CAV was trading 31% higher at AU$0.010 per share on ASX during the intraday trading session at  3:36 PM AEDT. 




Read More: Why Carnavale Resources (ASX:CAV) shares are trading 31% higher on ASX today?