Vivos Therapeutics Stock: First Take After The Broad Market Sell-Off (NASDAQ:VVOS)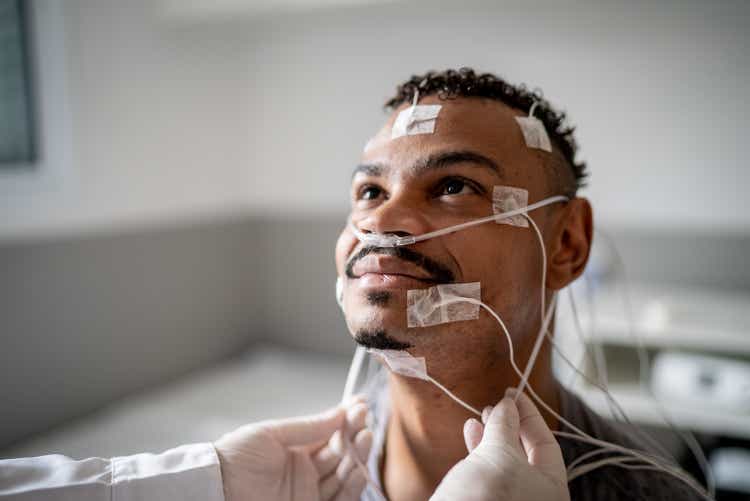 "Never go to bed mad. Stay up and fight." ― Phyllis Diller
Today, we are taking an in-depth look at a medical device maker that looks like it has developed a best of breed product but whose stock has been hit by the broad market sell-off. An analysis is presented below.
Company Overview:
Vivos Therapeutics, Inc. (NASDAQ:VVOS) is a Highlands Ranch, Colorado based commercial-stage medical technology concern focused on the development of non-surgical, non-invasive, and non-pharmaceutical solutions for sleep disordered breathing. It markets a system consisting of two oral appliances to treat mild-to-moderate obstructive sleep apnea (OSA) through dentists, as well as a home sleep test kit for diagnosis. Vivos promoted its first device in 2009 as BioMarketing Solutions, which was later purchased by Corrective BioTechnologies in 2016. The company went public in December 2020, raising net proceeds of $21.6 million at $6 per share. Its stock trades for around $3.25 a share, translating to a market cap of approximately $75 million.
About OSA
OSA causes its sufferers to repeatedly stop and start breathing while they sleep. It is measured by a system dubbed the apnea-hypopnea index [AHI], which is the number of partial or complete airway blockages lasting at least ten seconds experienced by a patient in one hour. Vivos' technologies currently target the population of mild-to-moderate OSA patients, who register between 5 and 30 on the AHI.
It is believed that one billion people worldwide and 54 million adult Americans are afflicted with OSA, yet owing to the high cost of and limited access to diagnosis, ~80% of OSA sufferers remain unidentified. Once diagnosed, treatment options are either surgery or unappealing non-surgical options like continuous positive airway pressure (CPAP) machines. Left untreated, OSA can significantly decrease quality of life by increasing the risk of a whole spectrum of disorders, including heart failure, diabetes, and dementia, amongst many others.
Vivos' Solutions
The company's answer to OSA is Vivos System, consisting of its modified Mandibular Repositioning Nighttime Appliance (mmRNA), which is complemented by a Daytime Nighttime Appliance [DNA]. These devices are essentially retainers that reposition the jaw, altering the size, shape, and position of the tissues that comprise the upper airway; thus, enabling users to properly breath through their noses. DNA (first used in 2009) is a Class I palatal (roof of the mouth) expander while mmRNA (2014) is a Class II medical device that repositions the jaw and was cleared by the FDA in August 2021 for the treatment of mild-to-moderate sleep apnea and snoring in adults, later becoming the only such appliance approved for Medicare reimbursement in December 2021. mmRNA is primarily worn in the evening and overnight, with users able to talk, drink, and swallow but not eat. In multiple studies, The Vivos System devices were found to reduce AHI by an average of 67.4%. It has been administered to over 24,000 patients and found effective in ~87% of OSA cases.
To aid in the diagnosis of OSA, Vivos distributes a home sleep test called SleepImage Powered by VivoScore that fits on a finger and measures AHI and other sleep metrics. This 510[K] cleared product was formally launched by Vivos in February 2021.
The company also sells Vivos Guides, which are Class I devices for tooth positioning.
Sales of its products are primarily through dentists, who are already experts on craniofacial abnormalities. To date, Vivos has trained ~1,350 dentists (primarily in North America) through its Vivos Integrated Practice (VIP) program, which provides strong economic incentive to diagnose OSA and treat patients with Vivos System. VIP dentists pay anywhere from $12,500 to $50,000 (plus $10,000 per associate) for training. The higher the upfront fee, the cheaper the cost of Vivos System and Guides, which the company receives ~$1,600 and ~$400 per device on average, respectively. These levels translate to approximately 70%-80% gross margins. With ~200,000 dental practices in the U.S. and Canada, there is ample market opportunity for the company to exploit.
To increase further adoption, Vivos is developing a network of ear, nose, and throat specialists, sleep experts, pulmonologists, and other healthcare professionals who treat sleep disorders to collaborate with its VIPs. It has also built an institute, which opened in August 2021, to provide onsite training to its VIPs and other healthcare providers. Furthermore, the company is in discussions with several dental service organizations representing nearly 4,000 offices to launch pilot programs beginning in 4Q21.
Benefits of the Vivos System
In addition to curing or relieving OSA at a high rate, Vivos System is not a lifelong solution like a CPAP device. By contrast, patients receive initial therapeutic benefits within days or weeks with optimal and usually permanent results typically achieved in 12 to 24 months – at which point the commitment ends. At an average estimated treatment cost to the patient of ~$9,000 (which is covered by most health plans), it is significantly cheaper and less invasive than the other potentially permanent solution: maxillomandibular advancement surgery, which runs ~$70,000 per procedure. For some, Vivos System provides resolution of TMJ pain, locking, and clicking. Furthermore, from an aesthetic perspective, it restores facial symmetry through craniofacial and orthodontic correction, while producing a broader and less gummy smile.
To be sure, there are dozens of other oral appliances on the market but none are approved by the FDA and all require a lifetime commitment. Inspire Medical Systems (NYSE:INSP) treats OSA patients with a surgical implant that temporarily opens the airway by moving the tongue forward through electrical stimulation. Although effective, it must be used every night ad mortem.
Although Vivos System's clinical results were encouraging, the real-world outcomes are even better with 97% of patients stating that they achieved their medical objectives using Vivos. With that kind of scorecard versus OSA treatment alternatives, it is somewhat head-scratching that only 24,000 alignment systems have been sold since 2009.
The answers to this conundrum lie in the fact that its mmRNA appliance was just cleared by the FDA as a Class II device for the OSA and snoring indications in August 2021, opening up greater insurance coverage, such as the recent Medicare reimbursement eligibility. Also, the company raised IPO capital to further market its product in the middle of a pandemic, when its targeted market of dentists saw a significant reduction in office visits; thus, a drop in revenue and a disincentive to making the outlay to receive expensive VIP training. The other obstacle is simple awareness. A quick and unscientific survey of two people with OSA who use CPAP devices uncovered that neither had heard of Vivos System – a solution that receives a 97% customer satisfaction grade.
3Q21 Results
However, progress is being made, albeit slowly. On November 15, 2021, Vivos reported a 3Q21 loss of $0.26 a share (GAAP) on revenue of $4.55 million as compared to a loss of $0.17 a share (GAAP) on revenue of $3.29 million in 3Q20, representing 38% top-line growth. Total oral appliance arch sales increased 33% to 2,996. On the negative side of the ledger, dentist enrollments in VIP declined to 56 (from 64 in 3Q20) as a resurgence of the Delta variant was blamed. Gross margin was 70% in the quarter versus 78% in 3Q20 as higher costs (e.g., free SleepImage testing devices) associated with VIP enrollments impacted that metric.
For the first nine months of 2021 (YTD21), Vivos lost $0.62 a share (GAAP) on revenue of $12.49 million as compared to a loss of $0.52 (GAAP) on revenue of $9.76 million, reflecting a 28% improvement at the top line. Appliance sales increased 54% over YTD20 (5,610 to 8,648). Gross margin slipped from 79% in the prior year period to 76% in YTD21.
In the past 12 months, ~9,000 OSA patients have been treated with Vivos System.
Balance Sheet & Analyst Commentary:
Vivos was compelled to return to the capital markets in May 2021, raising net proceeds of $25.4 million at its IPO price of $6 per share. As of September 30, 2021, the company held cash of $28.5 million and no debt, providing it a cash runway through 2H23.
With its small market cap, it is not surprising to see only two Street analysts cover Vivos, both of which were bankers on the company's IPO. Craig Hallum Capital and Roth Capital both trumpet buy ratings and $12 price objectives for the company it helps birth into the public markets. They expect the company to grow its FY22 top line 43% to $24.7 million while losing $0.86 a share. For 4Q21, they anticipate revenue of $4.85 million.
Verdict:
The May 2021 secondary at $6 marked the beginning of a decline that lasted through January 18, 2022, when its stock hit at an all-time closing low of $1.63 a share.
On the surface, the selloff is difficult to rationalize as Vivos has enjoyed an active 2021, receiving approval and expanded insurance coverage for its mmRNA device, launching its home testing kit, building out its Colorado training facility, and forming partnerships that should aid its marketing effort. With a product that is a potentially permanent alternative to going to sleep with a CPAP machine while improving one's aesthetics, wide and rapid adoption appears to be simply a function of getting the word out.
And that is one of two drawbacks in its model: the heavy upfront costs for dentists to enroll in its VIP program, which has been further impacted by the pandemic. Imagine spending $80,000 to enroll and train your staff, only to have them all relocate or quit because of the pandemic. As such, a majority of its product revenue is derived from a small subset of dentists. That dynamic – where supply outstrips demand – should flip as the world returns to some semblance of normalcy. And based on management's anecdotal evidence, it already has and quickly. But that points out the other drawback: Vivos only has the capacity to onboard ~60 dentists a month, limiting more rapid adoption. The home test kit is a step in the right direction but a clearer vision is needed to achieve blowout growth – and eventually profitability – its product deserves. Despite these shortcomings, the two Street analysts who follow Vivos are anticipating 43% revenue growth in FY22. I could also see a larger player with an established sales force and customer base potential target Vivos as 'bolt on' acquisition at some point.
With a U.S. population of 54 million adults and only 24,000 served – 9,000 in the past 12 months – the blue sky for this device (well marketed) is substantial. To that end, Vivos issued a presser on January 19, 2022 stating that it saw a 18-fold increase in home sleep apnea tests across its network of VIPs (4Q21 vs 4Q20), sparking a 41% rally to $2.30 a share on volume of 102.2 million shares – more than four times the amount outstanding – in the subsequent trading session.
The bet here is that a network effect overcomes the current restrictiveness of the business model and prompts conversions from CPAP devices for those with insurance coverage at a much faster pace than analysts are currently expecting. With an appealing product and a good story to tell, the network effect may also hit the retail investment community. The trading volume on January 19, 2022 suggests that has already started. With robust growth prospects and currently trading at approximately three times FY22E revenue, the stock seems attractively priced on a long term basis.
Due to the stock's relatively thin float, this is a good name to accumulate over time. There are also options available against the equity. Liquidity is not good enough to make VVOS a good covered call candidate on a consistent basis. However, I was able to execute covered call orders as part of my accumulation in this name.
"Laugh and the world laughs with you, snore and you sleep alone." ― Anthony Burgess
Bret Jensen is the Founder of and authors articles for the Biotech Forum, Busted IPO Forum, and Insiders Forum


Read More: Vivos Therapeutics Stock: First Take After The Broad Market Sell-Off (NASDAQ:VVOS)