The Blackstone rebellion: how one country took on the world's biggest commercial landlord |
Blackstone is the largest commercial landlord in history. Over the past two decades, it has quietly taken control of apartment blocks, care homes, student housing, railway arches, film studios, offices, hotels, logistics warehouses and datacentres. Blackstone doesn't just own real estate, it owns everything – or that's how it can feel when you start to examine its bewildering array of assets. If you wear Spanx, have ever matched with someone on Bumble, stayed in a Hilton hotel or a CentreParcs resort, visited Legoland, Madame Tussauds, the London Dungeon or an elderly relative at a Southern Cross care home, you have encountered a company that forms, or has recently formed, part of the Blackstone empire.
The New York headquarters of Blackstone are located in a skyscraper on Park Avenue. Every Monday, the firm's founder Steve Schwarzman and chief operating officer Jon Gray gather with senior partners around a large conference table on the 31st floor to discuss investment memos sent the previous week by teams in the company's 26 offices in the US, Europe and Asia. It's here that Blackstone's investment decisions are made. Last year, the company invested $270bn, bringing the total value of the assets it manages to $881bn, slightly more than the gross domestic product of Switzerland, and more than twice that of Denmark. The Monday meeting resembles an intense seminar whose participants zero in on the weaknesses in proposals that pass before them. Some investments can return to this table three or four times for approval before they're ultimately killed.
Blackstone is an asset manager, a type of private financial firm that invests the wealth of pension funds and insurance companies. It is not to be confused with BlackRock, an asset management firm founded by Larry Fink, who worked for Blackstone in the 1980s and set up its bond-investment business. In 1994, BlackRock became an independent firm and Blackstone sold its shares in the company. Fink and Schwarzman now work on opposite sides of Park Avenue. Fink's company dwarfs Blackstone, but when it comes to property, Blackstone is the giant. Its $320bn real estate portfolio is more than six times larger than that of BlackRock. "For Blackstone, real estate is the goose that lays the golden egg," Brett Christophers, a professor of geography and author of a forthcoming book about the asset management industry, told me.
In the 2000s, Blackstone's real estate division was known for buying up office spaces and hotels. Now, it seems to prefer life-science laboratories and warehouses rented out to last-mile delivery firms. But it is Blackstone's interest in another type of real estate that has attracted the most scrutiny. In recent years, it has become known for creating a profitable asset class from residential properties – in other words, buying up homes. Unlike warehouses or office blocks, the principal revenue source in rental homes are the people who live in them. Although Blackstone insists that its top priority is providing a good service, the finance industry's expectation of increasing returns can seem at odds with the interests of tenants.
In the years before the pandemic, the company presented its "conviction themes" – the areas where it plans to invest – to its largest shareholders at an annual investor meeting. (This event used to be held at the Waldorf Astoria hotel in Manhattan, which Blackstone used to own.) "It was like drinking from a firehose in the world of real estate," Anil Khera, a former managing director at Blackstone in London, told me of one meeting at the Waldorf. "You could be talking about shopping centres in Shanghai one minute, offices in Seattle the next minute. In that room, you'd probably be more informed about what was happening in the world of real estate than in any other room on the planet."
When Blackstone buys a building – say, an office block in London – employees are dispatched to "walk the asset", considering its size and location, ceiling height, ventilation, natural light, transport links, the number of lunch spots nearby, how many students, creatives and computer programmers are moving to the area and what other businesses are located there. After employees have visited the site and combed through its paperwork, they gather with colleagues from the firm's American, European and Asian offices to review and "socialise" the proposed deal. The final step is to secure approval from the real estate investment committee at its Monday meeting. For major acquisitions, senior leaders will fly in from New York to walk the space if they are not yet convinced by its commercial appeal.
This methodical, even cautious, approach to investing has yielded big rewards. Today, the name of Blackstone's founder can be seen on universities and public institutions across the US. There is a Stephen Schwarzman building at the New York Public Library, a Schwarzman centre at Yale University and the Schwarzman College of Computing in Massachusetts. Soon, the University of Oxford will open the Schwarzman Centre for the Humanities, funded by the largest single donation it has ever received. Yet, beyond the inscription of its founder's name into buildings and brass plaques, Blackstone is shaping the cities around us in a more profound way.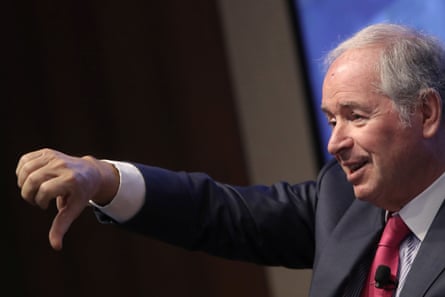 The company has acquired houses and apartments at a voracious speed in cities around the world. Like any company, Blackstone is focused on creating returns for its investors. Residents in some Blackstone properties have accused it of raising rents while reducing overheads, and the company has even been blamed – by an adviser to the United Nations – of helping to fuel the global housing crisis. (Blackstone vehemently denies these accusations and has previously said that the UN adviser's findings included "numerous false claims, significant factual errors and inaccurate conclusions".)
In most places where it began to buy up residential properties, Blackstone faced little opposition from governments or politicians. That is, until it arrived in a small Scandinavian country, which, when confronted with the indifferent force of this global real estate company, decided Blackstone had gone too far. "Blackstone was like a boxer walking into a heavy right-hand hook to the jaw," Curt Liliegreen, a Danish housing economist, told me. "They didn't see it coming. They picked totally the wrong place."
---
Blackstone started making major investments in homes shortly after the 2008 financial crisis, when tantalising new opportunities emerged. The cheap credit that rolled across the world in the years before the financial crisis had allowed people to momentarily live out a dream. In the US, they bought sprawling houses that they could no longer afford once the carousel stopped. In Spain, where Blackstone would also set its sights, the entire country got drunk on the GDP growth that flowed from its bloated construction sector. In both places, a real estate bubble was sustained by nothing more than an expectation that property prices would continue to rise. When they started to fall, the results were catastrophic. But not for Blackstone.
Before 2008, major real estate investors had focused on the places where people worked or shopped. After the financial crisis, the industry started eyeing up the places where people lived. In the US, as more and more people found themselves unable to pay their mortgages, thousands of houses became available at discounted prices. In spring 2012, Blackstone dispatched employees to hoover up such properties. It founded a subsidiary, Invitation Homes, to manage its new kingdom of houses, which spanned from Seattle to Atlanta.
"We were very particular about the assets we were buying," Alexandra Thur, a former equity partner who joined Invitation Homes before the company even had a name or email address, told me. The firm looked for two- or three-bedroom houses in sunnier climes where an economic recovery seemed more likely. It avoided struggling cities such as Detroit or Cleveland. Invitation Homes hired local agents who knew every detail about the neighbourhood, right down to whether a street had a "weird church" or a rundown shopping parade on it, Thur recalled. Soon, the company was spending as much as $125m on houses every week.
Not everyone was thrilled with their new landlord. Some people who lived in Invitation Homes' properties told journalists that it had hiked rents, seemed to scrimp on maintenance costs and imposed punitive fees on tenants. The company's business model appeared to depend on maximising rent and fees while reducing the cost of maintenance. In this dispassionate equation, tenants seemed to be the ones who lost out. Some complained of black widow spider infestations, floods of raw sewage and plumbing leaks. Despite this, the federal government gave Blackstone's business model a seal of approval. In 2017, Fannie Mae, a government-sponsored mortgage lender, even acted as the guarantor for a $1bn loan made to Invitation Homes.
Blackstone told me any negative reports were a "mischaracterization of the facts". The company had previously responded to reports of tenants' complaints by noting that it spent an average of $25,000 renovating each home, that it was helping address a national shortage of rental accommodation, and that it scored highly in tenant satisfaction surveys. It also said that Invitation Homes only owned 0.1% of single-family homes across the US. Even so, the company was the largest owner of family rental homes in the country. Before Blackstone sold its shares in 2019, Invitation Homes owned about 82,500 homes.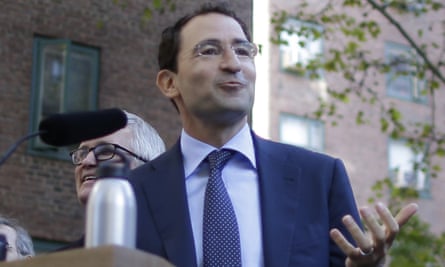 At the same time it was buying up properties across the US, in 2013, Blackstone made its first investment in Spanish housing, buying 1,860 apartments from the city of Madrid. The story was the same as in the US: the Madrid tenants union accused Blackstone of hiking the rent on new leases, forcing some tenants to leave their homes. According to a two-year analysis of Blackstone-owned apartments by academics in Madrid, tenants said their buildings quickly declined after Blackstone took over. (In an email, a spokesperson for the company told me that rising rents in Madrid were caused by an "imbalance between supply and demand", and that Blackstone's funds invested more than €150m in refurbishing homes in Spain and providing services to its tenants.) By 2019, Blackstone owned almost 30,000 rental homes in the country, making it Spain's largest private landlord.
Then, as if spinning a globe on a desk, the company fixed its attention on a different part of the continent. Instead of buying repossessed homes at fire-sale prices, Blackstone would start to buy housing in "tier-one" cities that were home to the "industries of the future": science, tech and creative fields. One of the people who worked on this strategy was James Seppala, the company's head of real estate in Europe. Seppala grew up in France, attended boarding school in England and studied French and Italian literature at Harvard. He also has family from Finland, and was particularly interested in investing in Nordic countries.
Stockholm was the first Scandinavian city where Blackstone made a major investment in housing. With nationwide rent controls, Sweden was like no other market the company had entered. That might seem offputting for a landlord, but for Blackstone, it was a plus. "There is something very safe and stable about investing in regulated markets, because you tend to have more demand than you will have supply," Seppala told me when we spoke over Zoom. "From an investor's perspective, that's quite a safe backdrop."
In 2016, Blackstone bought a controlling stake in Sweden's largest real estate firm, which owned 16,000 apartments, most of which were in Stockholm. That year, the company renovated more than 1,000 apartments and then raised the rent on them by 42%. Over the following three years, it bought more apartments in Stockholm, and by 2019, it owned 21,000. Blackstone soon came under fire from the Swedish tenants union, and, in 2018 it changed the name of its Swedish company to Hembla, a friendly, Swedish-sounding name ("Hem" means "home"). In a suburb to the north of the city, a kind of natural experiment unfolded. Blackstone's Swedish company owned almost half the apartments on one housing estate. The other half were still owned by the local authority, which made it easy to compare how the two landlords operated.
In a damning report compiled in the summer of 2019, shortly before Blackstone sold its stake in the company, Sweden's tenants union alleged that the entrances to the Hembla properties were "messy", "dirty" and "broken", with holes in the walls and flaking paint. This degradation, the report concluded, was the result of these apartments having been owned by private landlords for almost a decade, and Blackstone was merely the latest company to have acquired them. Blackstone said it reinvested all income back into these properties from 2016-2019, and did not pay dividends to its shareholders over this period. The company told me it invested in solar panels and geothermal heating at the properties, and created common areas and playgrounds. But even the playgrounds that belonged to these properties were apparently worse off, the union concluded, illustrating its point with a sad photograph of a broken seesaw.
"Blackstone came in, raised the rent, took the money, and got the hell out of here," Ola Möller, a Social Democrat MP, said. "We aren't used to that in Sweden. We're used to companies like Volvo and Ikea!" By the time Blackstone sold its stake in Hembla in September 2019, Seppala and his European colleagues had already fixed their attention on a different part of the map. In neighbouring Denmark, the company had started working with a partner to buy up apartments. But Denmark would prove a far more hostile country to invest in.
---
In late 2018, Claus Højte's inbox began to fill with agitated messages. Højte is the head of Copenhagen's tenants union and he has lived in the city since the 1980s, when he moved there as a student. Back then, he used to shower at university because there was no bathroom in his small rented apartment. Now, he owns a spacious house in the suburbs, which he shares with his wife, who is a school teacher, and his golden retriever, Lulu. He cycles to work, where he and his 33 staff represent almost 40,000 renters in the city.
All of the emails Højte was receiving seemed to be about the same thing. A new landlord had started buying up properties in Copenhagen, blitzing through the city at high speed. Some tenants said they would arrive home to find their apartment block wrapped in scaffolding and workmen traipsing up and down the stairs. One tenant wrote to Højte that their new landlord had stressed her out with letters and "unpleasant measures". Another said they had been sent five reminders about late rent, despite having paid on time every month. The same tenant complained about the landlord's "ice-cold communication". Others believed the landlord was sprucing up the buildings for a more affluent class of resident, making cosmetic improvements to stairwells and facades. To some tenants, these renovations seemed as much about disrupting their lives as fixing anything.
The new landlord was a small Danish firm called 360 North. Behind its shopfront was a giant. Blackstone had moved into Denmark, paying its operating partner 360 North to buy up apartment blocks on its behalf. For the tenants union, gaining an overview of exactly how many apartments Blackstone owned in Copenhagen was tricky. When it bought a building, it would set up an individual property company, a "PropCo". Each block of apartments was owned by a different "PropCo", which was in turn owned by a holding company, a "HoldCo", which was in turn owned by another holding company, a "TopCo". And to make matters more complicated, that TopCo was owned by another holding company, Calder Holdco, which was based in Luxembourg. This structure is a hallmark of the asset management industry. "It is like a spider's web", Claus Højte said of his attempts to find out which properties Blackstone ultimately owned.
Copenhagen is a small city where outrage travels fast. Soon, the media started to take an interest in tenants' stories. One told Danish TV that her apartment had been soaked in rainwater after workmen removed parts of the roof, and another said cracks had started to appear in her ceiling. A TV channel broadcast a documentary called City of the Rich, which cast Blackstone as its villain. People suspected the motive behind the company's disruptive renovations was to get tenants to leave so it could renovate their homes and charge new occupants higher rent. (Seppala told me over Zoom that as the company was building its portfolio in Denmark, "it became clear to us that we had to make improvements in how our local team in Copenhagen managed the properties".)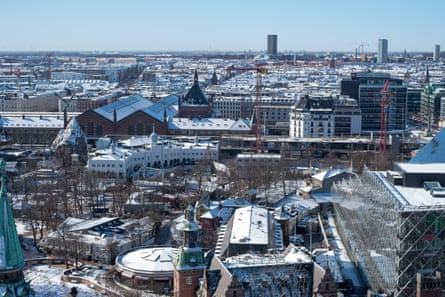 360 North even offered some residents sizeable sums to vacate their properties for good. Once the company had renovated an apartment for new tenants, it would sometimes double the rent. (Owing to a law introduced in the 90s, landlords that invest a certain amount in renovating old rent-controlled apartments can raise the rent when a new tenant moves in, meaning new tenants can end up paying close to the market rate for such apartments.)
Across Copenhagen, these tactics became known as ryste bygningen – or "shake the building". "Imagine an apple tree shaking at the trunk to get the apples loose from the branches," wrote one journalist of 360 North's partnership with Blackstone. "In the real estate world, the occupants are the apples, the apartments are the branches, and when a landlord 'shakes the building', it is to get the tenants out."
Almost everywhere that tenants complained about Blackstone, the same guy would appear. He would circle the buildings, inspecting courtyards and stairwells and chivvying contractors. He seemed possessed of a churning energy, as though he could hardly stay still for longer than a few minutes at a time. He wore thick black spectacles like a 1950s crooner and spoke fast. "Blackstone didn't seem to care what methods he was using, or what bad media coverage he was getting," said Anette Birck, a tenant who lives in an apartment owned by the company. That man was Nils Jansson, and in Copenhagen, he would be Blackstone's undoing.
---
Nils Jansson was a strange business partner for a Wall Street firm that preferred to be regarded as a careful steward of pension pots rather than an impulsive Monopoly man. The entire population of Denmark is just over half the size of London, and its real-estate industry is dominated by a tight-knit group of professionals with august credentials. Jansson was an outsider. He came from Holbæk, a hefty harbour town, and studied farming at agricultural college in the early 2000s. He worked for a catering company and then as a manager in a construction firm, finding himself in Copenhagen during the biggest financial boom of the 21st century. Jansson had a hustling, enthusiastic energy, which earned him the nickname "Speedy". "In the olden days," said one property investor who used to work with him, "we used to say he could charm a cow out of a flower field."
Real estate finance can be complicated. What Jansson did was simple. Before the financial crisis, he bought properties from a group of investors who sold buildings to one another at vastly…


Read More: The Blackstone rebellion: how one country took on the world's biggest commercial landlord |