SPYG Vs. SPY: Which Is Better During A Market Correction?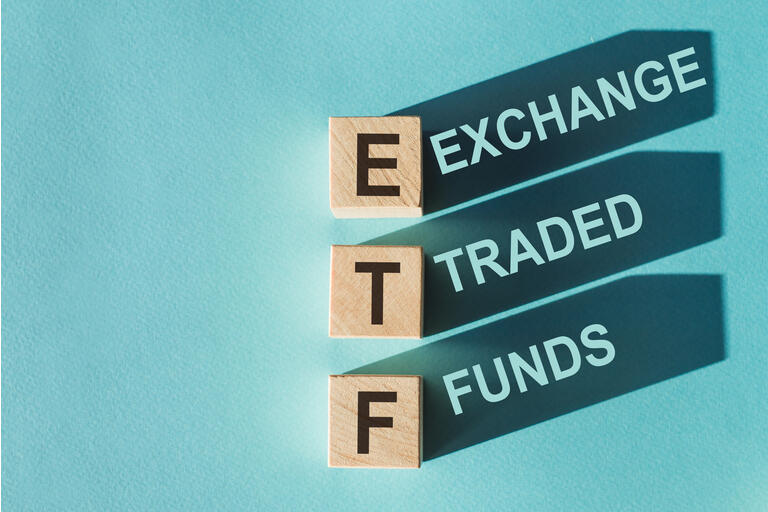 The SPDR Portfolio S&P 500 Growth ETF (NYSEARCA:SPYG) seeks to track the S&P 500 Growth Index. Past performance, namely from early March 2020, indicates that it has delivered an astounding 76.97% upside which is 22% above the SPDR S&P 500 ETF (NYSEARCA:SPY). This outperformance has been achieved amid last year's Spring market crash, as well as sporadic volatility episodes impacting growth names due to inflation concerns.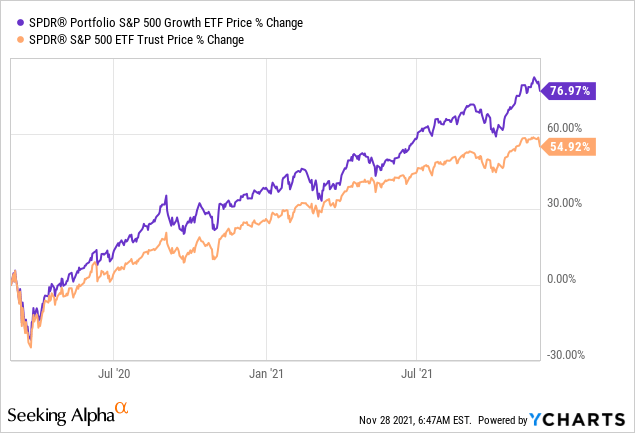 Last week was Black Friday alright, with traffic at retail stores dropping "28.3% compared with 2019 levels".
In other parts of the world, there were also concerns about Omicron, the new Covid variant from South Africa which could bring despair as infection rates rise, and this, at a time when the number of people needing hospitalization is already on the rise in parts of Europe as a result of the Delta strain.
The quality of life for so many is also tanking as social distancing measures take a toll on services-oriented businesses. Many countries have imposed travel bans against those exhibiting rising infection rates, in turn raising the specter of a March-2020 style market crash where asset prices underwent a 30% downside.
However, this time things look different and for this purpose, I start with the Federal Reserve's (Fed) actions.
March 2020 v/s November 2021
By April 2020, the U.S. had already spent $6 trillion on the coronavirus including combined expenses by the Trump administration and the Fed. While its Chairman Jerome Powell may not dispose of trillions of dollars this time, he seems to have a better grasp of the situation.
For this purpose, what the Fed had warned about on November 9 is proving to be true, namely that "asset prices remain vulnerable to significant declines should investor risk sentiment deteriorate, progress on containing the virus disappoint, or the economic recovery stall". The warnings in the report are pretty obvious and relevant and it would seem that the Fed didn't want to put the risk of Covid behind as fast as the speculators in stocks and crypto did.
This warning also makes sense in a low-interest-rate environment where additional monetary easing becomes more difficult to put into place, and, especially at a time when economists are instead calling for tightening. In this context, "any significant decline" in risky asset prices from these euphoric levels like the Fed warned could lessen inflation-related pressures for rising interest rates. By extrapolation, a correction in the stock market, led by commodities like oil and metal could even put a dent in inflation, albeit temporarily.
Furthermore, contrarily to Spring 2020, when lockdown mandates were closely followed, many businesses aren't closing anymore. Part of the reason is that studies have shown that vaccination induces herd immunity and protects against severe symptoms and death including the Delta variant. By the way, Pfizer (PFE) and Moderna (NASDAQ:MRNA) through their superior mRNA technology are already working on developing antidotes against Omicron.
At this stage, it becomes important to assess economic indicators.
Looking at consumer confidence, the most recent Forbes Advisor-Ipsos Consumer Confidence Weekly Tracker says that "Despite rising inflation, 1 in 5 Americans report higher-than-usual spending or borrowing". However, going into details, the latest confidence figure at 57.7, despite improving by 2.3 points from two weeks ago, is 2.4 points below where it stood in early March 2020, prior to the first lockdowns when it was at 60.1.
Another market indicator, which I successfully used to forecast the trajectory of the broader market or SPY back in May 2020 is CNN's Fear and Greed Index. At that time (May 7, 2020), I was the only analyst on SA to be bullish and the index was 42, up from 38 one week earlier. Here, a reading of below 50 means Fear. This time it is currently at 31, or in the Fear territory, down from 64 (signifying Greed) one week below.
Therefore, while the two indicators convey the "crash" message, a more confident Fed whose Chairman has been renominated together with the ability of medical research to respond rapidly, and availability of monoclonal antibodies for hospitalized patients, may mitigate the risks of a severe market downturn.
At this stage, I assess SPYG's advantages which enabled it to overcome March 2020 lows rapidly by May.
SPYG's advantages over SPY
The difference between SPY to the left in the diagram below and SPYG to the right is the latter's higher exposure to names like Apple (NASDAQ:AAPL), Microsoft (NASDAQ:MSFT), and Amazon (NASDAQ:AMZN).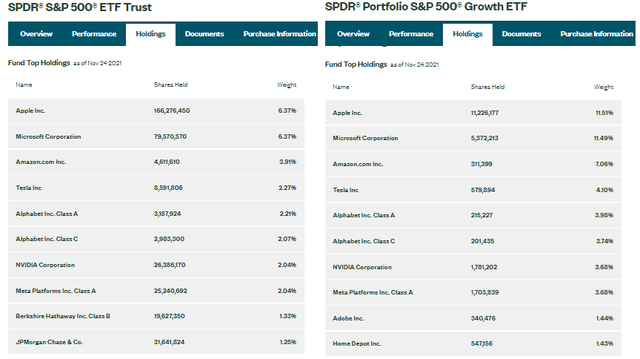 Source: Comparison diagram prepared through SPY's SSGA data and SPYG's data
Now, these stocks better resisted last year's market downturn as their products and solutions could rapidly be used for digital transformation whereby more activities were done online, be it working or playing from home. Amazon's online marketplace was also heavily solicited for purchasing products through the internet while its distribution channels performed on a 24/7 basis despite some locations suffering from workers being infected. Companies like Adobe (NASDAQ:ADBE) and Google (NASDAQ:GOOG) (NASDAQ:GOOGL) also proved vital in keeping up whole businesses open by allowing flexible deployments of solutions in the cloud instead of employees having to attend infection-prone offices.
Thus, SPYG has a combined 74.83% exposure to IT, Consumer Discretionary, and Communications Services sectors.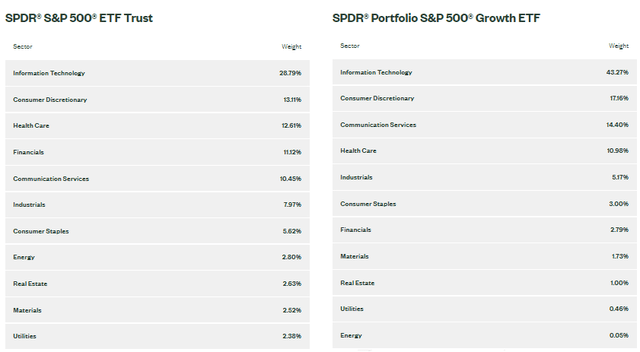 Source: Comparison diagram prepared through SPY's SSGA data (left) and SPYG's data (right).
On the other hand, SPY has relatively more exposure to Healthcare, which is not necessarily an appropriate sector to be in especially during periods of social distancing where there are disruptions to normal care unless the ETF's assets include a sizeable portion of vaccine plays. This is not the case though, as exposure to Pfizer and Johnson & Johnson (JNJ) is limited to 0.71% and 1.05% respectively.
Pursuing further, with exposure of 7.97% and 2.80% to Industrials (which includes airlines), and the Energy sector (including oil companies) respectively, SPY remains more susceptible to downside risks as countries suspend international flights. This does not augur well, both for air passenger traffic volumes and demand for oil.
Conclusion
It is commonly said for investments that past performance is no guide to the future. Extending this further, the reasons for market crashes are different, an example being the role of the financial sector in the 2008-2009 crash when it was viewed as the culprit. In 2020, the crash was caused by demand suddenly evaporating, plus uncertainty about the coronavirus.
Nineteen months later, "a strong rebound in job growth in October is raising hopes for a long-awaited recovery in the labor market". While some people are risk-averse, more are now willing to take the risk of the 1% mortality rate and, instead, stand a 99% chance of getting on with their livelihood. Many, including myself, after being vaccinated, have had it and will refuse any more limitations on their lives, jobs, and body. The community can't support any more restrictions to movement resulting in the destruction of the economy and middle class.
Pursing further, Black Friday's 2% and 2.23% drops in SPYG and SPY respectively happened amid some thin holiday trading. Bitcoin also plunged by 8.5%. More importantly, the 10-year note's yield saw its sharpest drop since the March 2020 bottom. Some will again see a prelude to an impending market crash, but given that circumstances are different, we are more likely to see an 8-9% market correction as was the case in February and September respectively.
In spite of these two setbacks, SPYG has delivered an 18% upside in the last six months, which in some way, relegates its lower 4-year dividend yield of 1.2% to the background.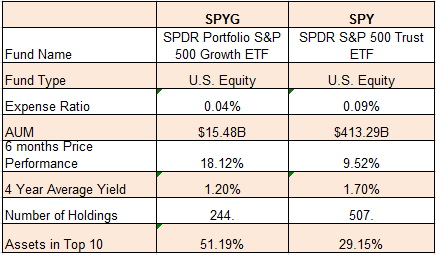 Source: Seeking Alpha
The growth ETF can be subject to more volatility due to its number of holdings being less than half of SPY's. For this matter, SPYG also bears higher concentration risks with more than 50% of assets distributed among the top ten.
Still, for those prepared to face the risks during forthcoming market turbulences, SPYG offers greater returns in the medium term and the quality of its assets should enable it to face uncertainties related to the more infectious Omicron better.
Coming back to the role of financial institutions, banks are well-capitalized and are now trusted partners through the recovery namely through disbursing of the PPP loans. Also, it is unlikely for the government to order lockdowns as by removing supplies from the demand-supply equation, closures also fuel artificial inflation. Instead, the mayors of metropolitan cities may resort to alternative actions like "closing schools and switching to fully remote learning".
Consequently, during an eventual propagation of Omicron to the U.S., contrary to what Joe Biden's chief medical adviser, Dr. Anthony Fauci is currently advocating, it is unlikely for the same type of adverse economic impacting activities to be imposed as during the pandemic's first wave. In the worst-case scenario that we are faced with acute movement-restricting measures, SPYG, which recovered more rapidly (by two months) than the broader market in 2020, stands a better chance this time too, and its holdings should continue to play a fundamental role in keeping up large swaths of the economy open for business.
Finally, considering future uncertainties, the growth ETF could undergo a $6-7 correction, but a lot will depend on Fed Chair Powell's speech on Monday, November 29.


Read More: SPYG Vs. SPY: Which Is Better During A Market Correction?