SPDR S&P 500 ETF (SPY) looking for more downside [Video]
Short Term Elliott Wave View in S&P500 ETF (SPY) suggests rally to 480.02 ended wave ((1)) on January 4, 2022 high. Wave ((2)) pullback is currently in progress with subdivision as a zigzag Elliott Wave structure. Down from January 4, wave 1 ended at 475.58 and rally in wave 2 ended at 478.96. The ETF extends lower in wave 3 towards 462.74 with internal as an impulse in lesser degree. Down from wave 2, wave ((i)) ended at 476 and rally in wave ((ii)) ended at 477.98. Wave ((iii)) ended at 465.43, wave ((iv)) ended at 470.82, and wave ((v)) ended at 462.74.  This completed wave 3 in higher degree. Wave 4 bounce ended at 467 and the last push lower wave 5 ended at 456.60 which also completed wave (A).
Wave (B) correction is proposed complete at 473.20. Internal of wave (B) unfolded as a zigzag structure. Up from wave (A), wave A ended at 468.06 and pullback in wave B ended at 462.05. The ETF then extends higher in wave C towards 473.20 which also completed wave (B). Wave (C) lower is now in progress but SPY still needs to break below wave (A) to validate the view. Down from wave (B), wave ((i)) ended at 468.94 and wave ((ii)) ended at 472.88. Wave ((iii)) ended at 463.44, wave ((iv)) ended at 467.39 and another push lower in wave ((v)) should end soon. This should complete wave 1 of (C), then the ETF should rally in wave 2 before the decline resumes. Near term, as far as pivot at 480.02 high stays intact, expect rally to fail in 3, 7, or 11 swing for more downside.
SPY 60 Minutes Elliott Wave chart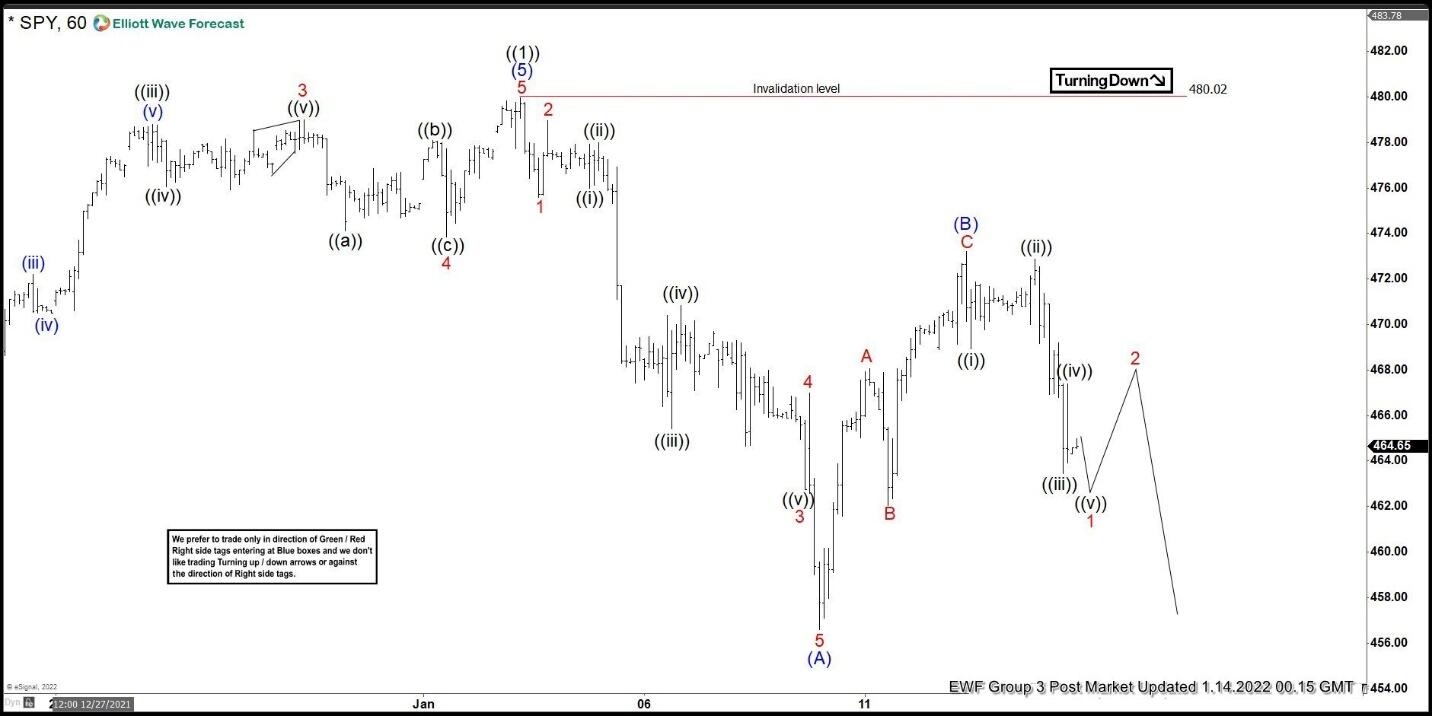 SPY 60 Minutes Elliott Wave video


Read More: SPDR S&P 500 ETF (SPY) looking for more downside [Video]