S&P 500 Dividend Aristocrats ETF: A High-Quality ETF, But A Peer-Lagger (BATS:NOBL)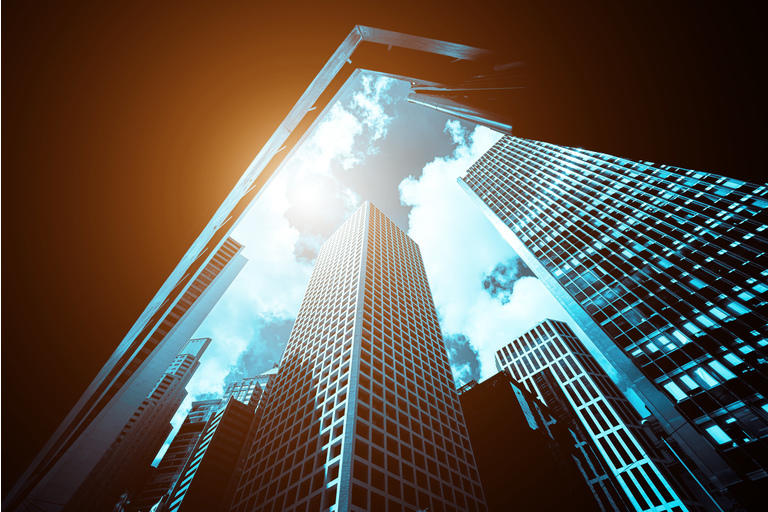 Quality is never an accident. It is always the result of intelligent effort. – John Ruskin
The ProShares S&P 500 Dividend Aristocrats ETF (NOBL) terms itself as the only ETF that invests in quality S&P 500 companies that have consecutively grown their dividend payouts in the last 25 years. In other words, the fund invests in blue chips and coffee can stocks with a history of strong growth and profitability. Its expense ratio is middling at 0.35%.
Based on the fund's investment premise, any investor will perceive that NOBL is an income-and-growth play.

Image Sources: My Tweet/The Lead-Lag Report/Trading View
In Q4 2020, NOBL had outperformed the SPDR S&P 500 ETF Trust by about 3%. However, from Q4 2020 onwards SPY picked up, and as of now (September 23, 2021) it has gained 46% as compared to NOBL's 25% price gain. The reason for NOBL's underperformance after the COVID-19 disruption could be due to growing interest in stocks that benefited from this disruption (mainly, technology and healthcare sectors). The virus has indeed changed the dynamics of business, and many innovative and creative companies, new or old, have begun hogging the limelight.
Despite all this, NOBL has gained 25% in the last 12 months, plus the fund has rewarded investors with a modest TTM dividend yield of 1.96%.
Here is my analysis of NOBL's investable quotient:
NOBL's Price Momentum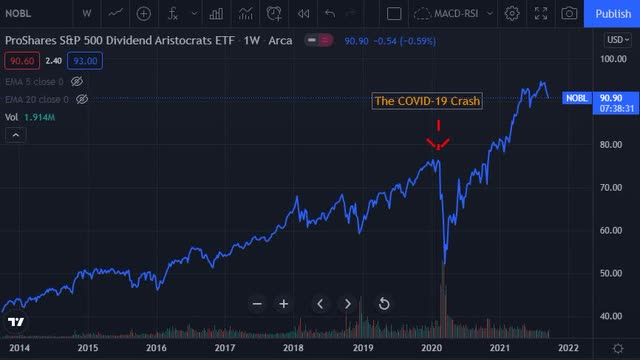 Image Source: Trading View
NOBL's price has kept growing at a steady pace since its inception in late-2013 – the only turbulence that the ETF faced happened when COVID-19 slammed into the market. Other than this black swan event, the fund has grown steadily year over year (see the chart above).
In the last 12 months, NOBL's price appreciated by about 25%, which looks good, but as you will read below, overall the ETF has underperformed its peers.
Forward Dividend Yield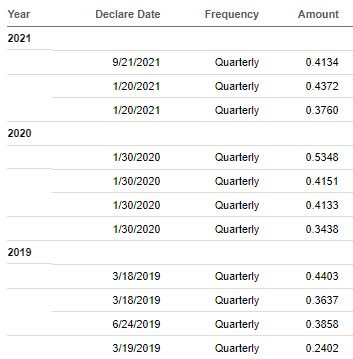 Image Source: Seeking Alpha
NOBL has been a consistent dividend payer since its inception in 2013. The ETF paid a dividend of $1.43 in 2019, $1.70 in 2020, and is on track to pay about $1.65 in 2021, which gives it a forward dividend yield of 1.81% based on its market price of $90.90 as of September 23, 2021.
If you consider the 25% price gains of the last 12 months, NOBL's consistent growth record, and the forward dividend yield, an investment in the ETF looks compelling – but we still need to compare it to its peers.
Peer Comparison
A price momentum comparison of NOBL with its peers, the Vanguard Dividend Appreciation ETF (VIG) and SPDR S&P 500 Trust ETF (SPY) reveals that: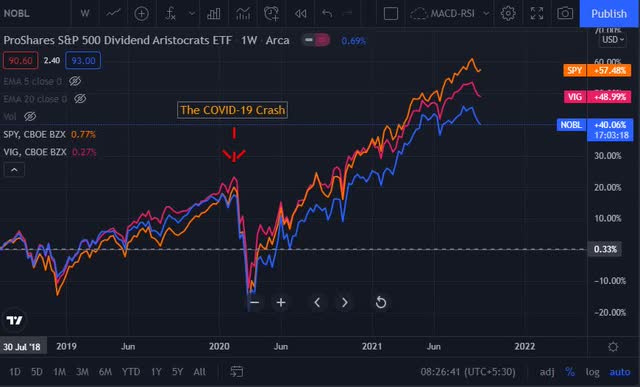 Image Source: Trading View
Between July 2018 and September 2021, SPY's price gained 57% and VIG's gained 49% during the period. NOBL's price gained 40% in that period, underperforming both its peers.

Image Source: Custom Comparison at Seeking Alpha
NOBL has outperformed both VIG and SPY on the dividend yield front. Its TTM dividend yield of 1.96% and 4-year average yield of 2.07% is higher than that of its peers. However, if you consider the overall picture – i.e., price gain as well as dividend yield combined, and compare it with its peers, on the whole, both VIG and SPY have outperformed NOBL by a healthy margin.
Portfolio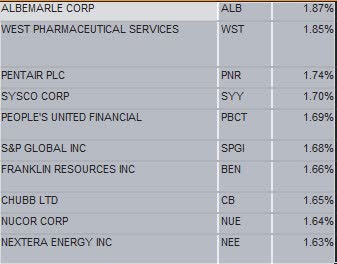 Image Source: NOBL's Website
NOBL invests in high-quality companies, and as of September 23, 2021, the ETF has invested its total assets in 65 stocks. About 17% of its total assets are invested in its top 10 holdings (check the image above). As NOBL's portfolio is high-quality, investors who are interested in building a custom income-generating-and-growth portfolio can analyze its holdings and pick their favorites. Other than that, there is nothing much to analyze.
Summing Up
Market conditions suggest that NOBL will likely continue to deliver a modest dividend yield that is a notch above the 10-year treasury rate and a reasonable capital appreciation mainly because it invests in high-quality dividend growers.
Though it has underperformed its peers on the combined price-momentum-and-dividend-yield front, I would still consider parking a part of my funds in NOBL for the long term because it is such a quality ETF.




Read More: S&P 500 Dividend Aristocrats ETF: A High-Quality ETF, But A Peer-Lagger (BATS:NOBL)