Shell's profits nearly triple as energy prices surge; Bank of England set to raise interest
Over in Turkey, inflation has surged to a 20-year high of almost 70%.
Consumer price inflation jumped to 69.97% per year in April, driven by the rally in global energy prices, and domestic food costs following the slump in the lira.
Energy inflation climbed to 118.2% from 102.9% in March, while food prices were 89% pricier than a year ago.
Prices charged by factories also more-than-doubled over the last year, with producer price inflation around 122%.
Turkey was already facing soaring inflation after its central bank cut interest rates several times, weakening the lira, under pressure from president Recep Tayyip Erdoğan to stimulate the economy.
The Ukraine war has made the situation even worse, as Ruth Michaelson and Deniz Barış Narlı wrote last month:
Turkey's financial crisis has been further compounded by Russia's invasion of Ukraine, which has driven up global food prices, particularly for wheat. The lira's slide against the dollar was already affecting Turkey's ability to import wheat, but the loss of Ukrainian supplies has left it scrambling to find alternatives, including dipping into its own reserves.

'I paid a 1,000 lira electricity bill in February, just for these two machines," says Mehmet Aslan, pointing at two refrigerators holding cured meat, cheese and plump yellow rounds of butter from the town of Rize, where his family comes from (as does Erdoğan's). Last Ramadan, Aslan says his shop was bringing in 6,000-7,000 lira a day in sales; this year he's lucky if it breaks 1,500 lira.

"People are making up prices," he adds, pointing to a large jar of honey. "I could just make that 400 lira [£21] and no one would say anything. I could even make it 500."
Full story: Shell profits soar to $9.1bn amid calls for windfall tax
Alex Lawson
Shell has reported a record quarterly profit of $9.1bn for the first three months of the year, piling more pressure on the government to implement a windfall tax to fund measures to tackle soaring household energy bills, our energy correspondent Alex Lawson writes:
The first-quarter profit was boosted by a sharp rise in oil and gas prices, and compared with $6.3bn of profits in the final three months of 2021 and $3.2bn during the first quarter of last year. It was above analysts' expectations of first-quarter adjusted earnings of $8.7bn.
Campaigners have called for a one-off levy on companies benefitting from soaring oil and gas prices to fund government initiatives to reduce the burden of rising bills.
Shell said it had taken a $3.9bn hit after it ditched its Russian investments after the invasion of Ukraine in February.
The UK oil firm is negotiating an exit from the huge Sakhalin-2 liquefied natural gas project north of Japan, in which it has a 27.5% stake. It is also divesting Nord Stream 2, a venture with the Russian gas company Gazprom.
Here's the full story:
TUC General Secretary Frances O'Grady says:
"These eye-watering profits are an insult to hard-working families.

"While millions of households struggle with soaring bills, oil and gas companies are having a bonanza.

"The likes of Shell and BP are treating the British public like a giant cash machine.

"The government must act now. The case for a windfall tax has become unanswerable."
Back in November 2021, BP's boss Bernard Looney actually said soaring global commodity prices have made his company a "cash machine", when the global recovery from Covid-19 lockdowns was pushing oil prices up.
Shares in Shell have hit their highest level in over two years in early trading, after it beat profit forecasts.
Shell are up 3.3% at around £23 each, the highest since January 2020 before the Covid-19 pandemic hit demand for energy.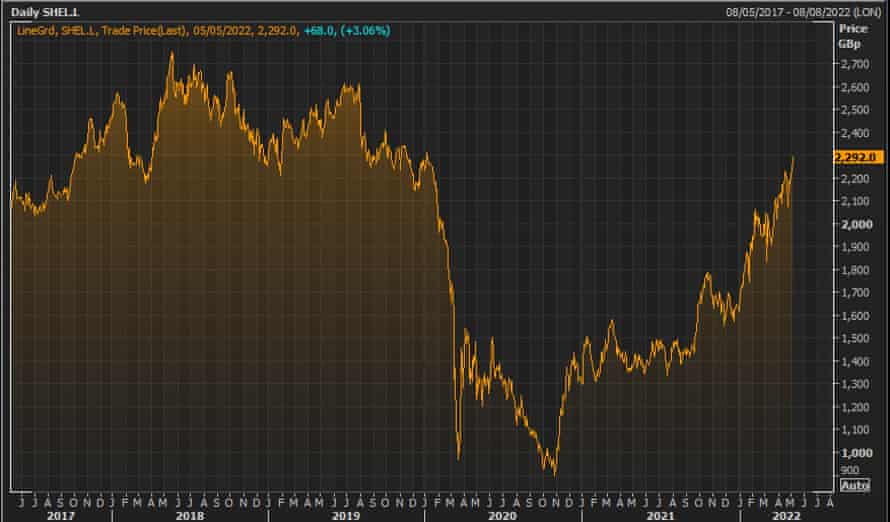 The wider market is also higher, with the FTSE 100 up 1.4%.
The government's refusal to impose a windfall tax on oil company's surging profits is 'completely unforgivable', says Liberal Democrat leader Ed Davey:
Ministers have claimed a windfall tax would hurt investment – but that argument has been undermined by BP CEO Bernard Looney. He told The Times this week that BP would continue an £18bn investment plan even if the government bowed to calls for a tax.
Although, as our financial editor Nils Pratley explained this week, a windfall tax on North Sea would not solve the energy crisis facing households on its own:
Indeed, just by considering the back-of-the-envelope arithmetic, one can see why the financial dial wouldn't move. The little secret about the Labour party's version of windfall tax is that it is very modest.

The formula imagines an increase from 40% to 50% in the tax rate on North Sea oil and gas profits, which in BP's case would merely turn an expected £1bn tax bill for the relevant assets this year into one of £1.25bn….

By the same token, though, Labour should stop giving the impression that a windfall tax is some form of cure-all for the crisis in consumers' energy bills. On the party's original January formulation of its tax, the projected total from across the entire North Sea industry was just £1.2bn. Even if one assumes that a higher oil price (and thus corporate profits) would add a bit, we're not talking about game-changing sums. For context, it would cost £10bn to give 10m lower-income households a £1,000 saving on their bills for a single year.
Shell has also returned billions of dollars to investors so far this year, a time in which millions of households have fallen into 'fuel stress', unable to pay their energy bills.
Total shareholder distributions in the last quarter were $5.4bn, Shell says.
That includes $4bn of the $8.5bn share buyback announced in February. It expects remaining $4.5bn will be completed before its second quarter 2022 results at the end of July.
It also lifted its quarterly dividend to $0.25 per share, up from $0.17 in Q1 2021, and $0.24 in Q4 2021.
Will Hares, senior analyst at Bloomberg Intelligence, has crunched the numbers:
Shell's chief executive officer, Ben van Beurden, says:
"The war in Ukraine is first and foremost a human tragedy, but it has also caused significant disruption to global energy markets and has shown that secure, reliable and affordable energy simply cannot be taken for granted.

The impacts of this uncertainty and the higher cost that comes with it are being felt far and wide. We have been engaging with governments, our customers and suppliers to work through the challenging implications and provide support and solutions where we can.

Generating value through strong earnings and cash flow, coupled with maintaining a healthy balance sheet and continuing the disciplined delivery of our strategy, are crucial for Shell to play a leading role in the energy transition. This allows us to support our customers as they shift to cleaner energy. It's also the best way for us to contribute to the security of energy supplies.
Introduction: Shell profits triple; BoE rate hike today?
Good morning, and welcome to our rolling coverage of business, the world economy and the financial markets.
Oil giant Shell has almost tripled its quarterly profits, as the surge in oil and gas prices drive up earnings and intensify calls for a windfall tax on excess profits.
Shell recorded adjusted earnings of $9.13bn (£7.25bn) in the first quarter of this year, its latest quarterly results show.
That's almost three times the $3.2bn it made in the same quarter a year earlier, and 43% higher than in the last quarter of 2021 – and even more than analysts had forecast.
Shell says the increase in earnings is mainly due to higher energy prices, a strong performance by its trading arm, and lower operating expenses and tax, partly offset by lower volumes.
The group has also taken a $3.9bn charge related to "the phased withdrawal from Russian oil and gas activities".
Shell is no longer buying Russian oil on the spot market (after apologising for buying one shipment in March), but will continue to fulfil contracts on buying fuel from Russia signed before the invasion of Ukraine.
It says it is making an:
Orderly withdrawal from its involvement in all Russian hydrocarbons, including crude oil, petroleum products, gas and LNG in a phased manner, aligned with new government guidance.

Since these announcements, Shell has stopped all spot purchases of Russian crude, liquefied natural gas, and of cargoes of refined products directly exported from Russia. Shell will not renew long-term contracts for Russian oil, unless under explicit government direction, but is still legally obliged to take delivery of crude bought under contracts that were signed before the invasion. By the end of this year, all of Shell's long-term 3rd party purchases of Russian crude will stop, except for two contracts with a small, independent Russian producer.

All of Shell's contracts to purchase refined products exported from Russia will also end.
Shell adds, though, that it still has "long-term contractual commitments" for Russian liquidied natural gas (LNG).
Reducing European reliance on piped natural gas supplies from Russia is also a very complex challenge that requires concerted action by governments, as well as energy suppliers and customers.
Soaring energy prices pushed UK inflation to a 30-year high of 7% in March, and some economists fear it could hit 10% this year, intensifying the cost of living crisis.
Those pressures mean the Bank of England is widely expected to raise interest rates today to the highest level in 13 years, despite worrying signs that the economy is slowing.
The City predicts the BoE will vote for a quarter-point rise, lifting base rate from 0.75% to 1%, which would be the fourth rise in as many meetings, as it tries to dampen down inflationary pressures.
John Hardy, Head of FX Strategy at Saxo Bank, explains:
The BoE feels that the outlook for real growth in the UK is very poor, driven by a drop in real incomes and that it is tightening its policy as a necessity linked to intolerably-high inflation.
But could hiking today be a policy error, if the economy is faltering?
Kallum Pickering, a senior economist at Berenberg, says there are reasons to be cautious:
"Amid plunging consumer confidence and evidence of a pullback in household demand, [raising rates] is not without risk, in our view.

"If we are unlucky, the UK is already in the early stage of a recession."
The Bank will also publish new economic forecasts, which may show slower growth and rising inflation than expected three months ago, with UK households facing the fastest fall in living standards since the mid-1950s.
Here's our preview on the Bank's decision:
Last night, America's central bank announced its biggest interest rate rise in 22 years, as it lifted US interest rates by 50 basis points, to a range of 0.75% to 1%,
Federal Reserve chair Jerome Powell also signalled the Fed could implement further 50bp increases at future meetings, as it takes a more aggressive approach to tackling high inflation.
Powell explained:
Inflation is much too high and we understand the hardship it is causing, and we're moving expeditiously to bring it back down. We have both the tools we need and the resolve it will take to restore price stability on behalf of American families and businesses.

The economy and the country have been through a lot over the past two years and have proved resilient. It is essential that we bring inflation down if we are to have a sustained period of strong labor market conditions that benefit all.
But Powell also said the FOMC wasn't "actively considering" a 75bp jump, which calmed fears of a steep rate hike next month.
Shares surged on Wall Street, with the S&P 500 recorded its biggest one-day percentage gain in nearly two years.
European markets are expected to rally too.
Other central banks, including India and Brazil, raised rates on Wednesday, in a global battle against inflation.
The agenda
9am BST: UK car sales for April
9.30am BST: UK service sector PMI report for April
Noon: Bank of England interest rate decision
12.30pm BST: Bank of England press conference
1.30pm BST: US jobless claims




Read More: Shell's profits nearly triple as energy prices surge; Bank of England set to raise interest