Quiet week of earnings and data to show true sentiment
S&P 500 closes in the green on Friday.
Friday's broad-based rally saw over 90% of stocks closing higher.
A quiet week with no big earnings or economic releases is ahead.
Finally, we got a much-needed break on Friday as all the major indices advanced for the session. The Dow Jones closed up 1.5%, the Nasdaq up 3.7% and the S&P 500 finished the day ahead by 2.4%. That put the week in a slightly better light, but concerns still remain with investor sentiment remaining extremely low.
S&P 500 (SPY) News
Data from China overnight has not exactly been helpful with Chinese retail sales and Chinese industrial production all tanking. Some will say this is due to lockdown effects, but there are other negative factors at play. China remains a dominant world economy, a massive exporter and a massive consumer. Tech stocks and electric vehicle stocks have massive exposure to the Chinese market, so this report is not good news for any of the FAANGT names. Additionally, financial conditions continue to tighten as the Fed remains on its now hawkish path.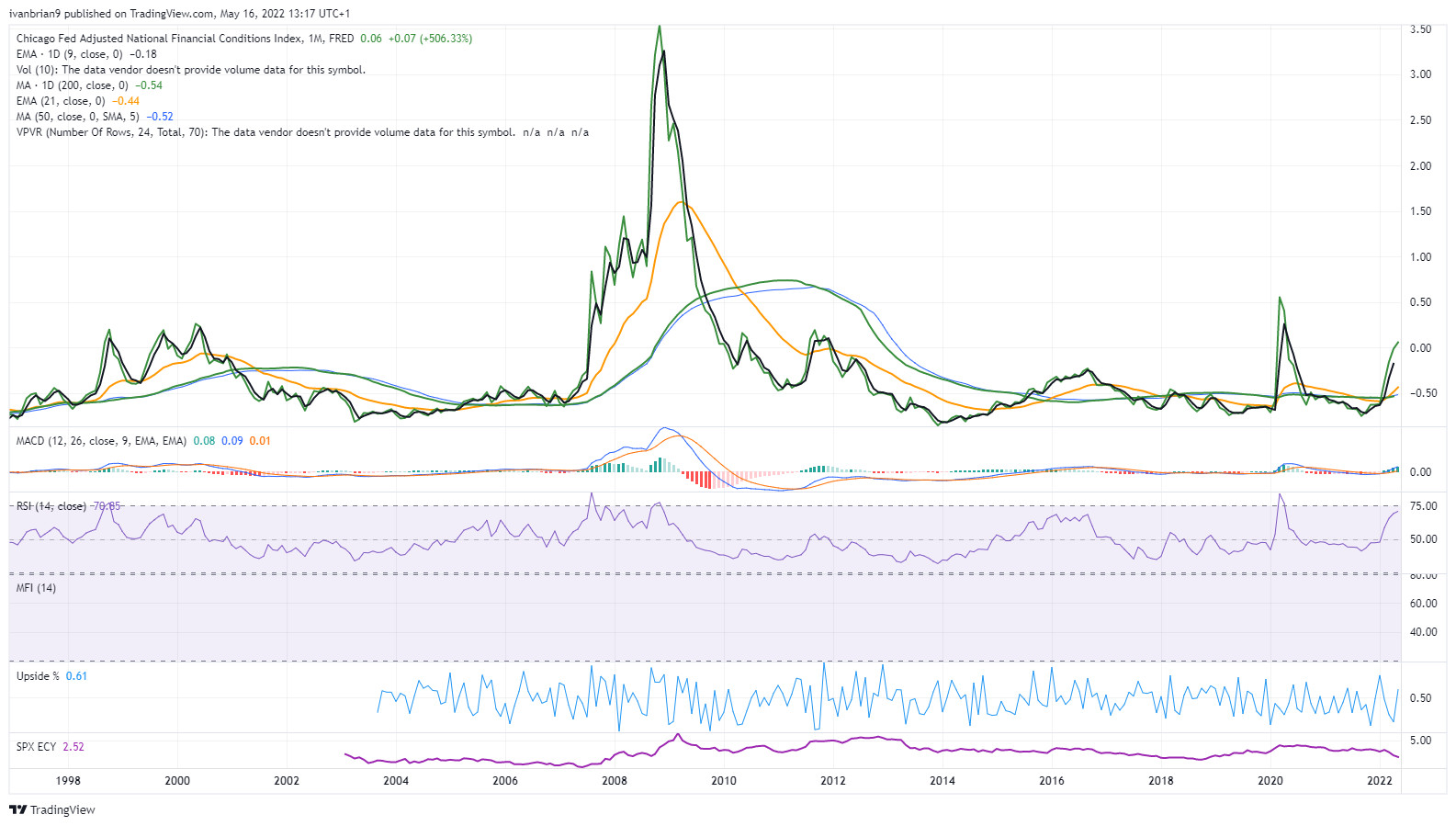 Chicago National Financial Conditions Index 
Financial conditions are now nearly as tight as back in the DotCom bust of 2000 and also close to levels seen just after the pandemic in March 2020. It was still a long way off from what we witnessed during the Great Financial Crisis. Tight financial conditions are not conducive to gains in risk assets such as equities.
Over the weekend we had Goldman Sachs again revising down their target for US GDP and the S&P 500. Morgan Stanley is also out with a bearish note targetting the S&P 500 at 3,400 for the end of the bear market. Goldman Sachs is also out with a comforting statement as picked up by Bloomberg reporter Lisa Abramawicz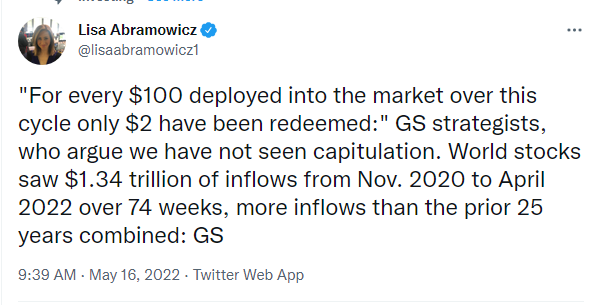 S&P 500 (SPY) Forecast
$400 is the key level to hold. Above and the SPY can continue this bear market rally all the way to $430 or even $440. $415 would be the key resistance along the way, but failure to hold above $400 leaves the SPY vulnerable to another leg lower, which would target $380 first as the Fibonacci 38.2% retracement of the move from March 2020 lows to Jan 2022 highs. $340 would be the target on a break of $380.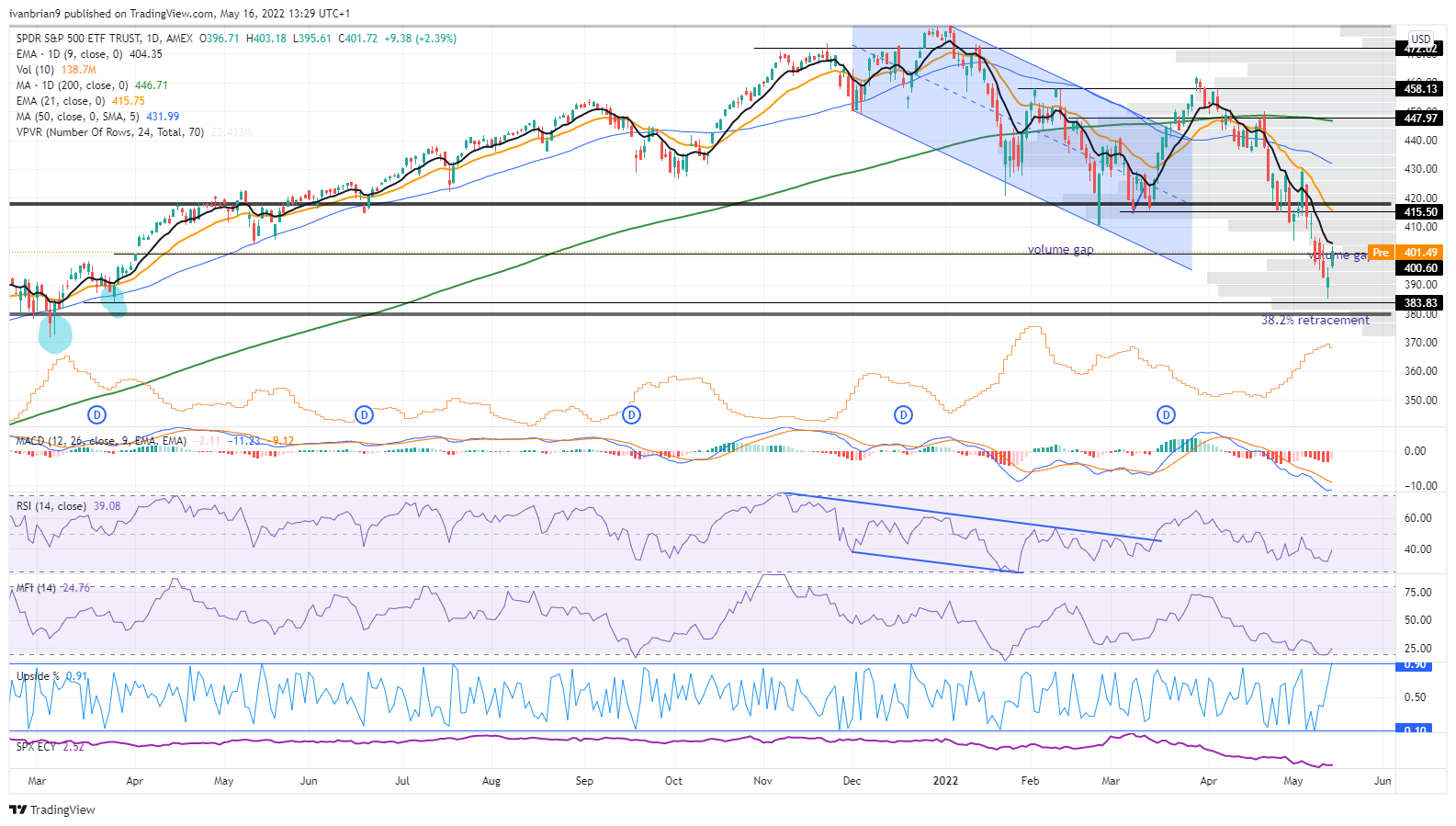 SPY chart, daily
The author is short Tesla.
---
Like this article? Help us with some feedback by answering this survey:


Read More: Quiet week of earnings and data to show true sentiment