Looking For To Diversify Your Portfolio? 2 Thematic ETFs To Consider
Wallstreet's ETF market has grown tremendously since the introduction of its first exchange-traded fund (ETF) in January 1993, namely the SPDR® S&P 500 (NYSE:). Now, there are well over 2,500 ETFs in the US.
According to ICI Global, in the past 12 months, ETF assets increased $1.36 trillion, or 24.7% year-on-year (YoY). As a result, the combined assets of ETFs hit almost $7 trillion in January 2022.
Technological advances, societal changes, and emerging global issues have contributed to new ETF themes that have gained popularity among investors. Many new funds provide exposure to such recent trends, offering a diversified approach to equity investing.
Today, we introduce two newly listed ETFs. We must warn, however, that new funds do not offer a long trading history and are typically small. Therefore, potential investors should do significant due diligence.
1. ARK Transparency ETF
Current Price: $15.35
52-Week Range: $14.74 – $20.43
Dividend Yield: 0.21%
Expense Ratio: 0.55% per year
Our first fund is a new addition to ETFs offered by Cathie Wood, CEO, and CIO of ARK Invest, whose funds invest in "disruptive innovation." The ARK Transparency ETF (NYSE:) tracks the returns of the Transparency Index (TRANSPCY), provided by Transparency Global.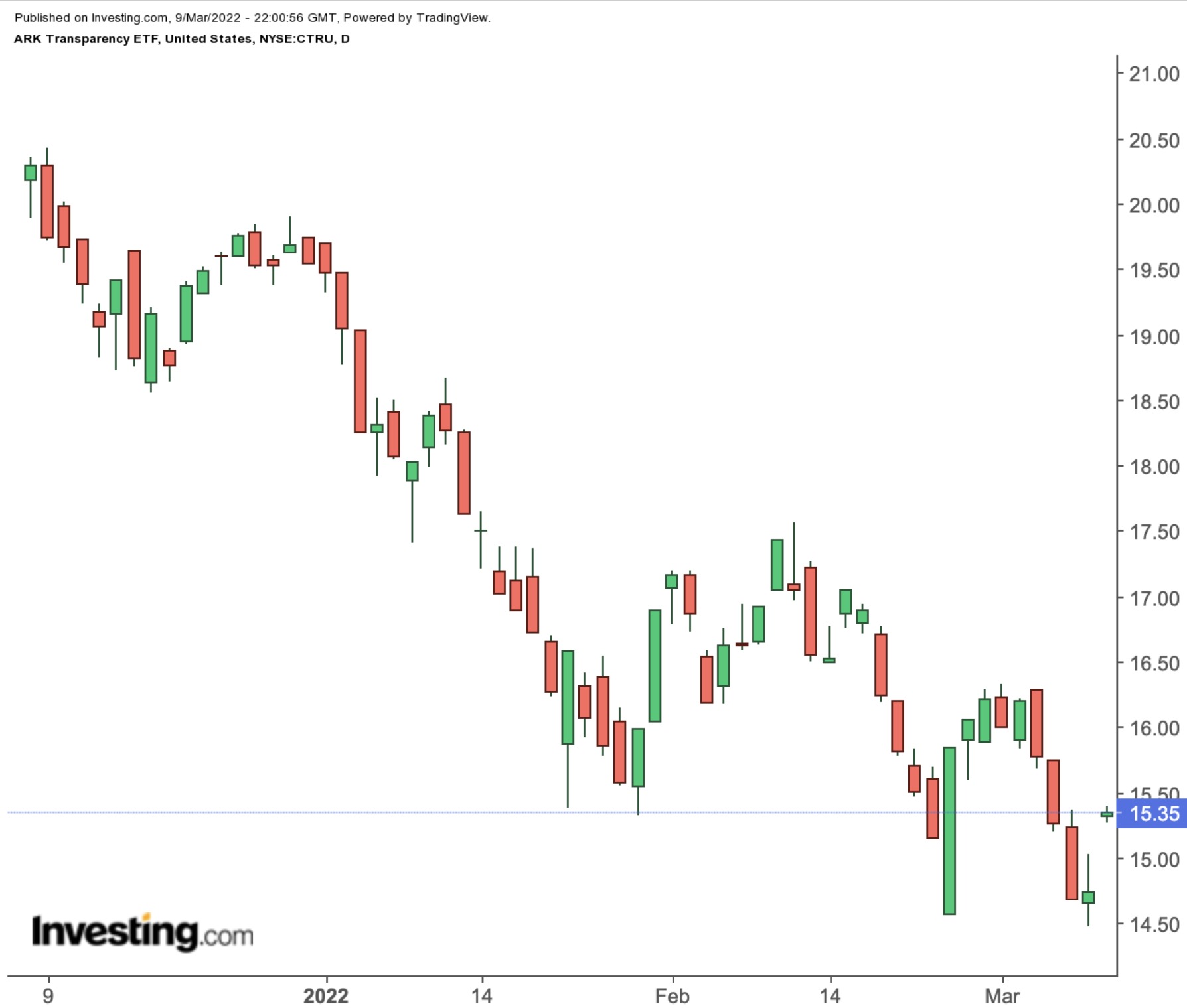 CTRU offers exposure to 100 firms regarded as transparent, based on openness, communication, accountability, and trust—as described on the fund's website. Cathie Wood and her team expect increased transparency to lead to:
"Higher consumer satisfaction, fewer financial crimes, and fewer environmental violations."
As a result of such increased corporate governance, these firms are likely to create long-term shareholder value. We should also note that CTRU has no exposure to the fossil fuel industry.
The top 10 names account for around 14% of net assets of $18.6 million. More than 83% of the companies come from North America, followed by Western Europe (8.17%), and Asia Pacific (4.02%). CTRU began trading in December 2021.
Information Technology (IT) stocks lead the portfolio with 45.9%. Next up are Consumer Discretionary 23.0%, Industrials 8.0%, Healthcare 8.0%, and Communication Services 7.0%.
Among the leading names on the roster are the unmanned aircraft systems (UAS) manufacturer AeroVironment (NASDAQ:); game gear manufacturer Corsair Gaming (NASDAQ:); consumer technology products retailer Best Buy (NYSE:); software solutions provider Splunk (NASDAQ:), which focuses on machine learning (ML); and furniture and architectural products supplier Steelcase (NYSE:).
Since the start of the year, the fund is down 21.4% and has hit an all-time low recently. Investors interested in holding stock in the Transparency Index should research CTRU further.
2. Fount Subscription Economy ETF
Current Price: $20.18
52-Week Range: $19.43 – $25.66
Expense Ratio: 0.70% per year
Our second fund, the Fount Subscription Economy ETF (NYSE:) invests in businesses that sell products or services for recurring subscription revenues—a business model Wall Street loves. These companies typically offer subscriptions in software, news, and digital content.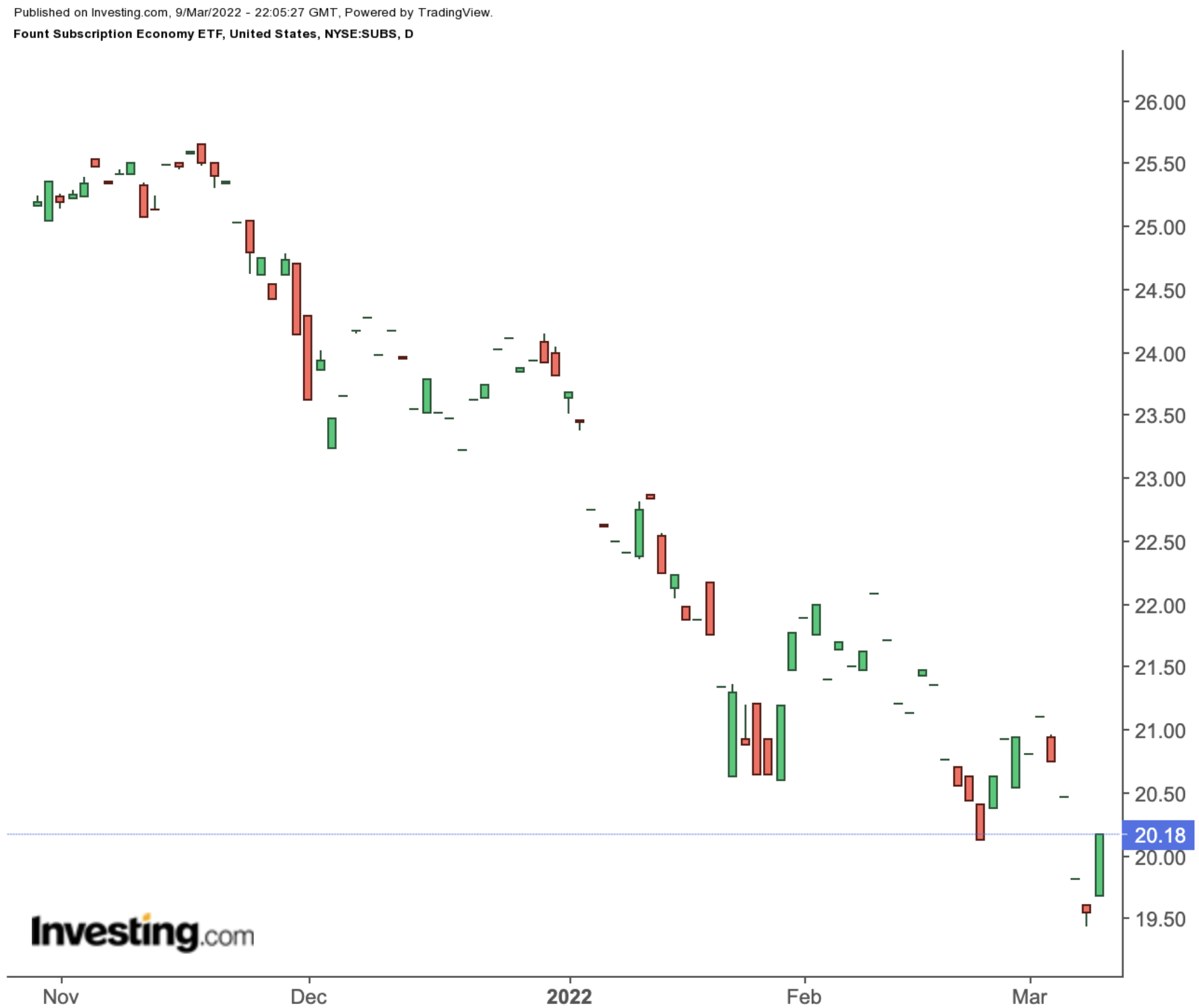 Recent research by Robeco suggests:
"The subscription economy … often implies a shift from ownership to usership… Subscription businesses typically offer resilient revenue and profit growth… Subscription economy & the metaverse are the themes to watch in 2022…"
SUBS, which has 50 holdings, was first listed in October 2021. Instead of selling products or services outright, these companies mostly have a recurring billing model. Users may see their offerings as convenience and access to the latest upgrades.
Around 40% of net assets of $6.8 million are in the leading 10 names. Over three-quarters of the companies are based in the US, followed by Japan (7.15%), Canada (6.44%), the UK (3.16%), Hong Kong (2.94%) and others.
Technology giants Microsoft (NASDAQ:) and Alphabet (NASDAQ:); credit ratings services provider S&P Global (NYSE:): Chinese technology heavyweight Tencent (OTC:). Wireless communications service providers Verizon Communications (NYSE:) and AT&T (NYSE:) top the list of names in the ETF.
Year-to-date, SUBS lost 15.2% of its value, and saw a record low in recent days. We believe the recent sell-off in many technology names offers a suitable entry point into the fund.


Read More: Looking For To Diversify Your Portfolio? 2 Thematic ETFs To Consider