Here are the 5 times traders and stock-market investors got fooled by Fed 'pivot' hopes in
Not once or even twice, but at least FIVE times in the past 12 months, investors and traders have expected the Federal Reserve to shift toward a dovish, or easier, monetary policy at some point — only to be wrong.
Well, at least someone is keeping count.
According to Deutsche Bank's Henry Allen, the bottom line is that inflation is still too strong to let policy makers "pivot" in a durable manner. Even more troubling, every time the pivot narrative takes hold in financial markets, that loosens financial conditions and works against the Fed's own efforts — making an actual pivot less likely, he said, in a Monday note.
"So when we hear about the sixth 'pivot,' it'll be worth sounding a note of skepticism
as to whether the conditions are in place for it to be a lasting one," wrote Allen, a research analyst.
Read: Why stock-market investors keep falling for Fed 'pivot' talk — and what it will take to put in a bottom
In April, Frankfurt-based Deutsche Bank, generally regarded as Wall Street's most pessimistic bank, became the first of its peers to call a U.S. recession during the current inflation era. Here is Allen's list of each time since last November that investors and traders have seen their hopes dashed for a Fed shift toward easier policy: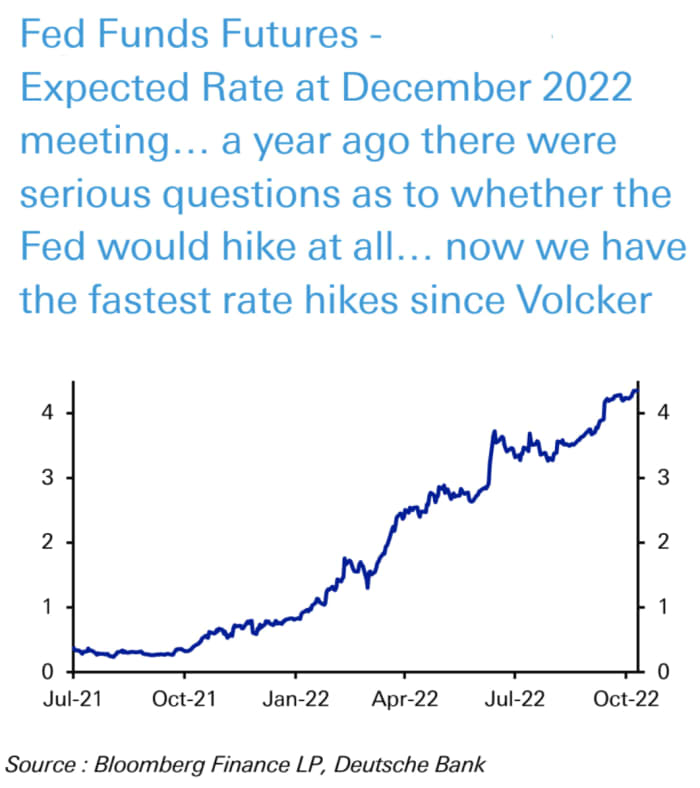 Monday is a Columbus Day holiday, with the U.S. bond market closed and the stock market open. All three major stock indexes
DJIA,
+0.13%
COMP,
-2.09%
were posting sizable losses in afternoon trade, as investors brace for Thursday's release of the September consumer-price index report. Economists and traders expect the report to contain the seventh straight annual headline inflation rate that's above 8%.


Read More: Here are the 5 times traders and stock-market investors got fooled by Fed 'pivot' hopes in