Get Paid to Buy an Oversold SPY Stock at a 10% Discount
The SPDR S&P 500 ETF (NYSEARCA:SPY) is trading at the lowest levels since last March despite earnings rising.
SPY stock reached historically oversold readings before bouncing.
The CBOE Volatility Index is showing a buy signal — sell put spreads to be a buyer at a 10% discount.
Shares of the SPDR S&P 500 ETF (NYSEARCA:SPY) look to have finally found a floor after falling over 18% from the all-time highs over $475 in early January. That means SPY stock might be a bargain here. According to the latest figures from Yardeni Research, revenues for the S&P 500 have grown over 15% on a yearly basis, with operating earnings surging to an even more impressive rise of just under 27%.
The combination of lower prices (P) and better earnings (E) means that the P/E ratio for SPY stock has dropped considerably and is now under 20. Lower multiples make stocks attractive on a fundamental basis.
The forward P/E, based on expected earnings in 12 months, is now below 18 for the first time since the second quarter of 2020, according to FactSet.
Certainly a big drop from the forward P/E over 21 to start the year.
Valuation multiples should have come down somewhat given the recent rise in yields, but it seems likely they overshot. Now that the 10-year has fallen back below 3%, multiples may start to to expand slightly. This will provide a tailwind for stocks over the next few months.
InvestorPlace contributor Chris Tyler recently penned an insightful piece on why he likes the SPY at current levels. He noted both the price action and Federal Reserve action as reasons to be bullish. Chris also mentioned that he preferred the deeper value area near $345-$375 as an entry point. More on that later.
| | | |
| --- | --- | --- |
| SPY | SPDR S&P 500 ETF | $406.59 |
Technical Take
SPY stock had reached very oversold readings before strengthening. Its 9-day RSI dipped below 30, but has since recovered. Bollinger Percent B was in negative territory before going positive. MACD  reached levels of extreme pessimism but have turned sharply higher. The SPY was also trading at a big discount to the 20-day moving average.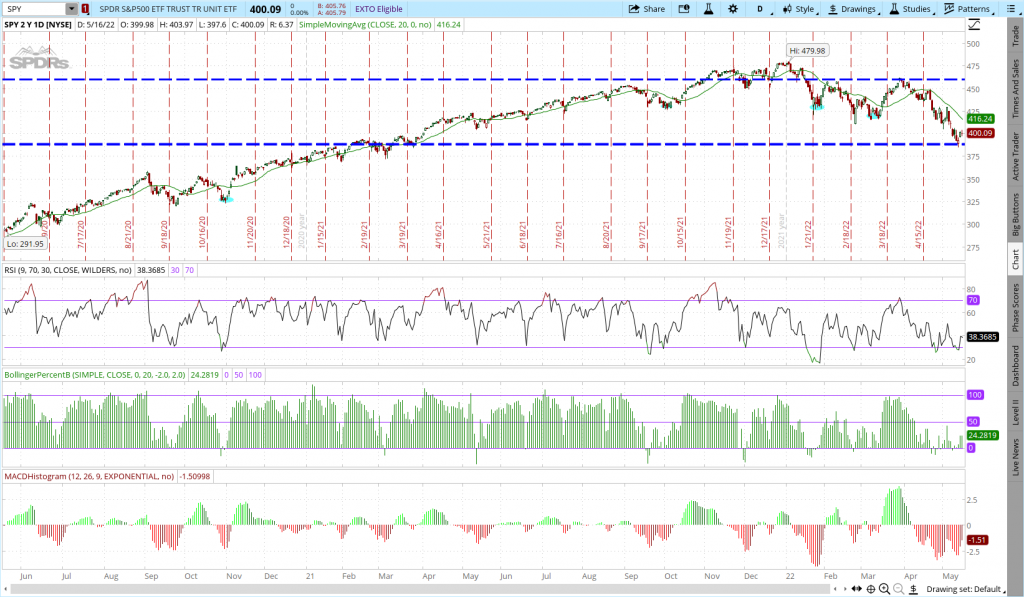 Source: thinkorswim® platform from TD Ameritrade
Previous times all these indicators aligned in a similar fashion marked significant short-term lows in SPY stock. Look for history to repeat itself once again. This is especially true since the bounce occurred at the major long-term support level of $385.
Volatility View
The Cboe Volatility Index, or VIX, is 30-day measure of implied volatility (IV) in the S&P 500. VIX is by far the most widely followed measure of IV in the options market. It is also known as the fear gauge, since it tends to spike when stocks drop sharply.
The VIX once again spiked to recent highs near the 35 area when stocks made their lows last Thursday. It means that option prices, especially for protective puts, had gotten very expensive. Prior times VIX neared these lofty levels proved to be profitable times to buy stocks. This contrarian VIX-based buy signal has a solid track record over the years.
So to position to be a buyer of SPY on further weakness, a defined-risk out-of-the money bull put spread makes probabilistic sense. The recent rise in VIX means we can get a bigger discount for the same price by selling put spreads. In essence, much more margin for safety for the same bang for your buck as before.
How To Trade SPY Now
Sell the July $360/$355 put spread for a 60-cent net credit.
Maximum gain on the trade is $60 per spread. Maximum risk is $440 per spread. Potential return on risk is 13.63%. The short $360 put strike provides a 10% downside cushion to the $400.09 closing price for SPY stock.
The $360 short strike also lines up with the aforementioned deeper value area between $345 and $375 ($360 average) that Chris Tyler mentioned in his article. It is definitely an opportune time to get paid for your patience by selling an out-of-the money put spread on an oversold and underloved SPY stock.
On the date of publication, Tim Biggam did not have (either directly or indirectly) any positions in the securities mentioned in this article. The opinions expressed in this article are those of the writer, subject to the InvestorPlace.com Publishing Guidelines.


Read More: Get Paid to Buy an Oversold SPY Stock at a 10% Discount